WELCOME to
Ghost Rider's Realm!

GR's Comments
******************************************
I received this from one of our Guests - It's all about a Principal with "PRINCIPLES"...
If, after reading the above, you have comments on it, please visit our new Forum and post...
******************************************
HERE IT IS!!! OUR NEW
BIBLE STUDY/DEBATE FORUM!

Bible-Point/CounterPoint
We need YOUR VIEWS and INPUT
on the various topics. We need
YOU to help kick things off with
NEW TOPICS and COMMENTS!

Just click on the Link below and READ and POST!! Please follow the Forum Guidelines and please consider using only KJV TEXT in your posts.

If you believe the Bible is God's Word
to mankind, and that it's TRUE, then open
it up and come on over to this new Forum!
We suggest READING the posts that are
already there, then, POST, POST, POST!!
Got a favorite Bible Topic? One that you
feel is definitely worth discussing? What
are you waiting for? :)
Join us and share your views!

---
---
Helpful Information
One of our goals is to provide content that will be helpful in your Bible Studies. One thing that is helpful is to understand 'Bible Figures of Speech'. This button will take you to a page of useful information on that subject. This material is used by permission of the author.
---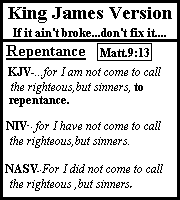 Interested in Comparing the KJV to other Modern Translations?
If you'd like to be alerted when we Update this page, just click on this link:
Tell me when this page is updated
---
---
Hey! Is one of your favorite pastimes FORWARDING interesting things to others in E-mail? Well, I've got some friends and family that like to do that too! They're always sending me things to uplift and encourage me!! I want to SHARE some of things with you! And. you in turn, can pass on the ones you want to!


Chattanooga Time and Temp
---
---
JOIN THE
FRANKLIN ELECTRONIC BIBLE CLUB!
It's a new Club! I'm starting it!! If you already own a FRANKLIN ELECTRONIC BIBLE, you already qualify!! I recently got a Franklin Electronic Bible and I'm really enjoying it. I got to thinking about it and it hit me that there are probably MILLIONS of others who have one! Everybody else has a "club", so, why not us??
Some, or most, probably have the KJV, and some have the new NIV. Whichever Version you have, you qualify to be a member. Please drop us a note in FEEDBACK so we can add your name to the Club Roster!
This club is, as yet, un-official, but, if enough of us get together, maybe Franklin Publisher will recognize us as the OFFICIAL USERS GROUP! So, write me ASAP.
Just THINK! How many new product ideas could we, as a group, present to Franklin Publishers? How many new improvements and helpful ADDITIONS to the Bookman Cartridge line, could we inspire them to add? How about a complete STRONG'S CONCORDANCE and BIBLE DICTIONARY Cartridge?? I know I'd really like to have one like that for my FEB. So, think about it!
So write me! There are NO dues, so, join up now!
Just click on ENTER FEEDBACK and let me hear from you today!
---
Articles & Reprints
We hope to post articles that will be helpful in your Bible Study and Christian growth.
If you have suggestions or would like to submit an article for consideration, please click on our E-Mail link and drop us a note.
---
What would Jesus Do?
I know you've heard the question, and seen the wrist band. But, what's it all about? Is it just a $$ making scheme? Is it a genuine CHRISTIAN EFFORT? Where did it come from? Who started the whole thing? Would you like to know what W.W.J.D. is all about??
For a look at the origin and goals of W.W.J.D. , just click on the icon and check it out.



Remember to use your BACK BUTTON to return to GR's Realm. And, when you get back, drop in on our new Forum, Thy Word is Truth!, and tell us your reactions to W.W.J.D.
---
Want more POLLS??

---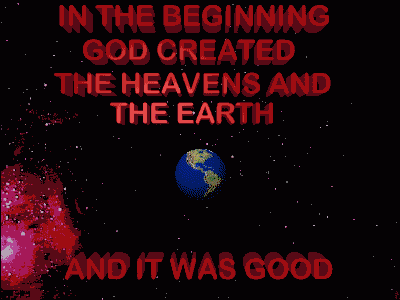 Colossians 1:9 For this cause we also, since the day we heard it, do not cease to pray for you, and to desire that ye might be filled with the knowledge of his will in all wisdom and spiritual understanding;

Click this button to submit your Prayer Requests and Updates.
---
Want more Christian Links? Try these!

Check out these Links for interesting content and discussions. If you host a Christian Web Site or Forum, we'd be happy to include it on this page. Add yours here!
---
If you are new to Ghost Rider's Realm, please
SIGN OUR GUESTBOOK!
We would really appreciate your comments.
Tell us what you think about the new Page and the
New Forum!
---
Give us your FEEDBACK!
Anything works better with


FEEDBACK! And, If something on this page
doesn't work, we want to know!


Page Updated: September 28, 2002